News
Can Scotland become one of the most innovative nations in the world? We think so!
Against the backdrop of the new Innovation Strategy announced last week, some of Scotland's brightest academic innovators took to the stage at the Assembly Rooms, Edinburgh last night (Wednesday, 14 June) to pitch their new ideas and technologies to a packed audience that included some of the country's foremost investors and business leaders.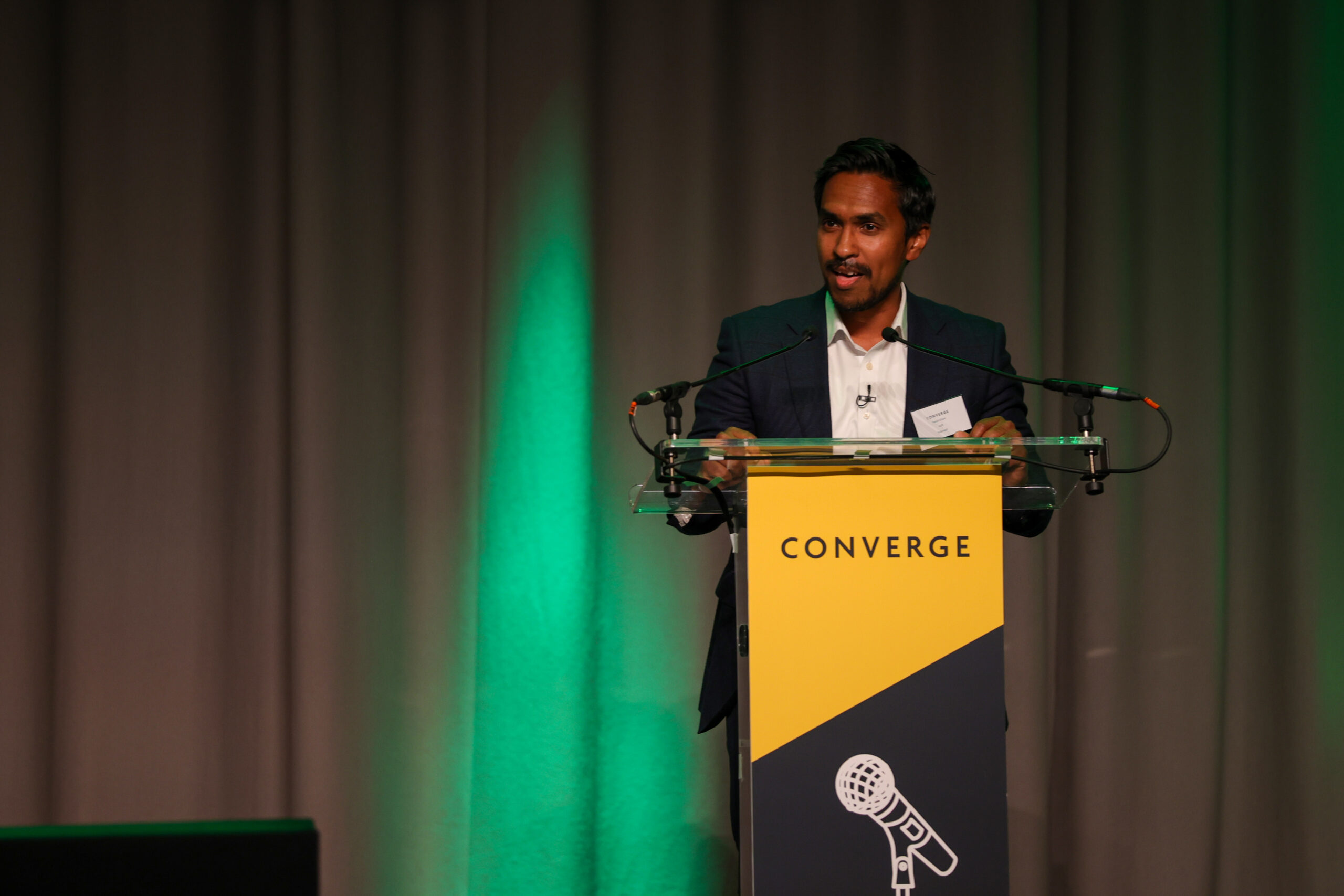 Hosted by Converge, Scotland's prestigious springboard for university-born innovators, the event showcased quick-fire pitches from semi-finalists across three challenge categories – Create Change, Net Zero and Converge – with each pitching segment introduced by Converge alumni from across the years. They included Lucy Fisher, a graduate from Robert Gordon University who took the Converge Creative prize in 2021 with her innovative digital knitting platform, Knit-It and Faisal Ghani, a teaching fellow from Heriot-Watt University who won the Converge Impact prize in 2019 with SolarisKit.
The showcase displayed novel solutions, new ideas and new technologies with the transformative power to overcome some of society's most pressing challenges – a step in the right direction in the Scottish Government's vision of Scotland becoming one of the most innovative small countries in the world by 2033.
Representing the cream of Scotland's academic innovation pool, participants had just 60 seconds to capture the attention – and votes – of the assembled audience with the three most compelling pitches of the night winning £500 each to fund their growing businesses. Triumphing in the Create Change category was Matthew Leeper from Education Evolved, a University of Glasgow project providing student and lifelong learners an education that leaves a lasting impact on the world. Anna Renouf from Scotland's Rural College took 'Best Pitch' in the Net Zero Category with FireHorse, a waste management company developing renewable biomass briquettes and pellets from horse manure. Finally, in the Converge Challenge category, the winner was Jevin Matthew from the University of Dundee with Hubble Bubble, an AI-based platform for international students pursuing Higher Education opportunities in the UK.
Other highlights included a panel discussion with investor heavyweights, Paul Atkinson, founder of award-winning venture capital firm, Par Equity; Niki McKenzie, Joint Managing Director at Archangel Investors and Ana Stewart, partner at early-stage investment firm, EOS Advisory. Ana, who founded the banking software company, I-Design, which went on to become listed on the London Stock Exchange, told the room of aspiring entrepreneurs "if you haven't made a mistake, you haven't done anything new". She also said that opting not to be the CEO of your own business doesn't make your start-up a failure and that finding the right person to take your vision forward is a smart decision.
The event marked the end of a full week of entrepreneurial training for Converge semi-finalists with all 47 businesses now tasked with refining their business models ahead of this year's Converge award finals in October.
Claudia Cavalluzzo, Converge executive director commented:
"The incredible ideas and inventions that our semi-finalists have pitched here tonight are a powerful indicator of the strength and vibrancy of our university sector. From cutting-edge research to entrepreneurial businesses, Scotland's universities are at the forefront of shaping the future.
I want to congratulate all our semi-finalists for their fantastic pitches and particularly our winners as the competition was intense"
Converge has created a digital showcase featuring summaries of all who pitched at the event last night. For more information, please visit: Innovation Showcase